MV Giamani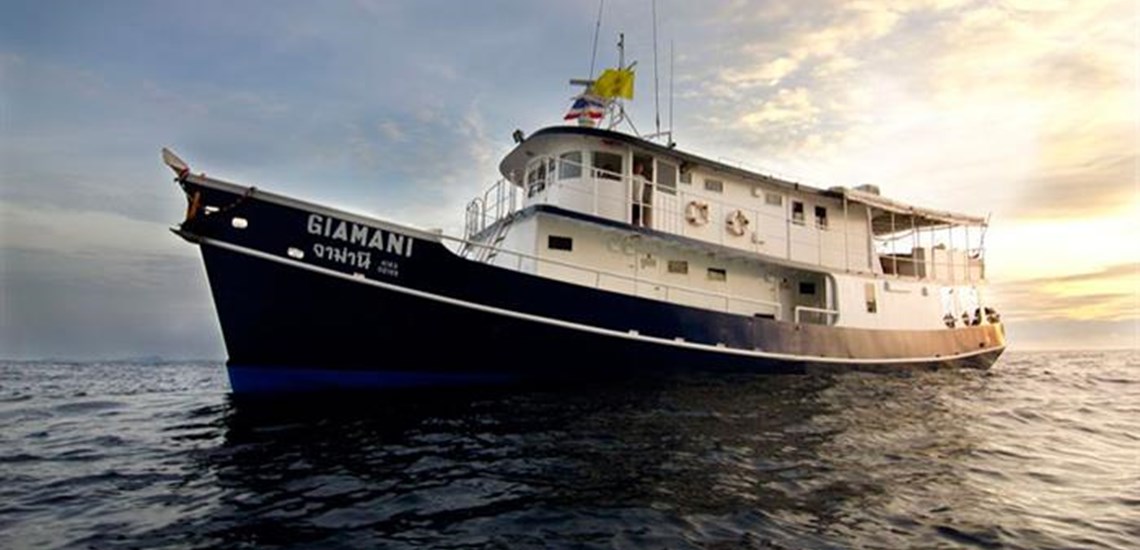 MV Giamani is able to offer a wide range of Thailand liveaboard trips to our diving guests.
10 divers Only!
En-suite cabins
NITROX
Re-breather (SCR & CCR), Twin & Side mount welcome on board.
On board MV Giamani we have 1 Master cabin and 4 Deluxe cabins to accommodate 10 guest only, ensuring that there is always plenty of space for all guests on board.
The air conditioned Master cabin, created in 2014, is located on the upper deck, behind the wheel house. This spacious cabin has one double bed, one additional sofa-bed for Twin Sharing, mini-fridge and en-suite bathroom with shower-box. Access door is in the salon. 
On the main deck we have 4 Deluxe cabins, totally refurbished in 2013, with double bed and additional extra bed for Twin Sharing. Each Deluxe cabin has it own air conditioning unit, mini-fridge, en suite bathroom with shower-box and the cabin door opening to spectacular sea views.
Enjoy the air conditioned salon for watching a movie, playing back your digital images from that day's dives, or browse through our extensive library of marine books. Our popular cushion relax area gives you plenty of space to read a book, enjoy the views and chat about the thrilling dives of that day.
The dive deck is spacious with camera table and rinse tanks making this an ideal boat for serious photographers. On the main deck all meals are served buffet style. Food is plentiful and diverse, Thai cuisine and International dishes are served, special diets can be catered for if we know in advance.
MV Giamani has a full complement of safety equipment making her a spacious, safe and diver friendly boat. We look forward to diving with you onboard MV Giamani in Thailand & Burma.
Built in the year 1998
Length 24m (78.7ft)
Beam 6.5m (21ft)
Draft 2 m (6 ft)
Material: Steel
Tonnage: 75 gross tons
Two NISSAN engines each with 230 HP
Max speed of 10 knots
A cruising speed of 8 knots
Diesel capacity: 9000 Liters
Two generators of 30kw & 25kw
All cabins complete with 220v of Electricity 24 hours a day
Two Bauer Mariner compressors
Set up Tech Divers
NITROX system onboard
CO Analyzer DE-OX SAFE
Large inflatable dingy with an outboard of 30bhp
Fitted with modern navigation equipment
Fully equipment medic first aid and oxygen system
Water capacity: 10,000 Liters
Water makers 2 x 2000 Liters per day
Comfortable sofa area
Library CD / VCD Music system with music selection
DVD Player with a library of films
Cabins
1 x Master 12 sqm
4 x Deluxe 8 sqm
ALL WITH:
Air conditioning
Mini-fridge
Fan
Cupboard
Windows
1 x Double bed
1 x Single bed
Private en-suite facilities with hot shower
Safety & Crew
Satellite phone
Mobile phone
VHF Radio
SSB Radio
Depth sounder X 2
Radar X 2
EPIRB & AIS with MMSI nr. 567000465
CB Radio, 24h contact with NAVY
O2 tank + O2 Instructor & provider on board
Carbon Monoxide Analyzer DE-OX SAFE TEMC
MFA Kit + Emergency First Response Instructors on board
Life-raft complete with jackets throughout
Emergency evacuation facilities with helicopter & ambulance
Affiliated member with the Hyperbaric Chamber in Phuket
Fire extinguishers
CREW
1 Captain
1 Engineer
1 Deck hand
1 Cook
1 Hostess
1 tour leader ( dive instructor)
1 dive instructor
Check out our Opens internal link in current windowAbout Us page for more infos.
THAILAND LIVEABOARD ITINERARIES
With their custom designed liveaboard MV Giamani, Colona Liveaboards provide scuba divers with some of the finest scuba diving in Thailand & Burma (Myanmar) has to offer with Thailand Diving liveaboard trips from 2 to 9 days in length. If our schedule etc not fit your dates we're happy to arrange a live-aboard cruise on board one of our partner boats.
| | |
| --- | --- |
| 2 Day 2 Night Cruise                  | PRICE |
| Deluxe Double / Twin: Diver           | 22,000 Baht |
| Master Double Room: Diver            | 25,000 Baht |
| 4 Day 4 Night Cruise |   |
| Deluxe Double / Twin: Diver           | 44,000 Baht |
| Master Double Room: Diver             | 50,000 Baht |
| 6 Day 6 Night Cruise |   |
| Deluxe Double / Twin: Diver           | 66,000 Baht |
| Master Double Room: Diver           | 75,000 Baht |
| | |
| --- | --- |
| 2 Day 1 Night Cruise  - Phi Phi Island Overnight               | PRICE |
| Deluxe Double / Twin: Diver                  | 11,900 Baht |
| Master Double Room: Diver                  | 12,900 Baht |
| 2 Day 3 Night Cruise - Raya Noi Island & Phi Phi Island |   |
| Deluxe Double / Twin: Diver               | 21,000 Baht |
| Master Double Room: Diver                   | 23,000 Baht |
Full set per day             

800 Baht

Dive Computer              

300 Baht

Torch                 

100 Baht

Similan Island National Park Fee

500 Baht

Diving Fee per Person            

200 Baht

Included in the above prices:

Dive guide, tanks, weights & belt, breakfast, lunch, dinner, fruits, soft drinks.

per person paid locally on the boat. Transfers to and from hotels.

              

 
NITROX fill             

300 Baht

NITROX 2D/2N package                

1,750 Baht

NITROX 4D/4N package               

3,500 Baht

NITROX 6D/6N package

5,250 Baht

REMARKS:

 

10% Discount for Non-Diving guests
The above rates can be changed without prior notice.
Please note that use of diving computer is mandatory

 
| | |
| --- | --- |
| Colona liveaboards have a full range of PADI & SSI Course available. The most popular courses are;            |   |
| PADI Advanced Course              | 8,500 Baht |
| PADI Nitrox Course                | 7,000 Baht |
| SSI Advanced Course | 7,500 Baht |
| SSI Nitrox Course           | 5,500 Baht |
BOOKING POLICY
On receipt of receiving a 30% deposit for the specified cruise we will send you a confirmation. The remaining balance of 70% must be paid one month before departure to Wintana Co., Ltd. If we do not receive the balance in time Wintana Co., Ltd retains the right to cancel the booking and resell the spaces.
CANCELLATION POLICY
Cancellations can only be acknowledged if received IN WRITING, by fax (+ 66 76 384 670) or by email. We will not except cancellations by telephone. In the event of cancellation by you, the following cancellation charges will be payable:
45 days or more prior to departure: deposit forfeited.
Within 45 days of departure: 100% of tour price.
If you have any queries on our cancellation policy please feel free to contact us.
INSURANCE
We strongly recommend that each guest purchases comprehensive accident, medical, baggage and trip cancellation/interruption insurance when space is reserved. Please be advised that if guest chooses NOT to purchase the trip insurance, we will not be responsible for any financial disappointment caused by reasons beyond our control. In the event that it will be necessary for Wintana Co Ltd. to cancel or interrupt the tour due to weather or mechanical problems there will be no refund.
6 day Myanmar diving cruise into Mergui Archipelago on board MV Giamani.
Sample Itinerary:
Friday - Evening departure from Khao Lak. Overnight sail to Border at Ranong.
Saturday - Early Morning check in into Myanmar. 2 dives around High Rock in the afternoon.
Sunday - Diving around Shark Cave (4 dives)
Monday - Diving Black Rock (3-4 dives)
Tuesday - Burma Banks (3-4 dives)
Wednesday - Western Rocky & Fan Forrest Pinnacle (4 dives)
Thursday - check out Burma. Check in back into Thailand at Ranong. Transfer back to Airport and Phuket or Khao lak Hotels.
Every Tuesday to Wednesday we offer a 2 day / 1 night Dive & Snorkeling Cruise with our MV Giamani to Phi Phi Island.
Tuesday morning departure from Chalong with dive on the way at Shark Point, great for diving and snorkeling. Than we head for Phi Phi Island for 3 more dives / snorkel sessions.
Overnight in Ton Sai Bay with visit at Ton Sai Village by night.
Wednesday we do 3 dives / snorkel sessions around Phi Phi Island. After the last dive we head back to Phuket where you arrive around 17:30.
A visit at Maya Bay is part of the cruise!
Hin Daeng & Hin Muang diving sites are located about 65km south east from Phuket Island and are famous for Manta Ray and Whale Sharks sightings. The cruise starts here and works back up towards Phuket stopping at Koh Ha, Phi Phi, Shark Point and Koh Doc Mai.
Weekend Liveaboard Trip during Phuket Islands Summer Season.
Departure every Friday evening from Chalong Bay, Phuket.
Saturday we dive the scuba diving sites of Raya Noi Island, a paradise island away from the big dive crowds. Excellent diving & snorkeling spots which makes it a perfect destination for Scuba Divers & Snorkelers alike.
Sunday we dive the best spots around Phi Phi Island including Bida Nok & Bida Nai. Also here it' s a paradise for Divers & Snorkelers. During the day we visit the famous Maya Bay and in the evening you have time to explore Phi Phi Island by night at Ton Sai Village.
Monday morning you back in Phuket Island and we transfer back to your hotel or direct to the airport.
This cruise gives you 14 dives spread over the Similan Islands, Koh Bon, Koh Tachai and Richelieu Rock, which together comprise some of the worlds most famous diving from the very large (whale sharks) to the smallest macro critters to be found scuba diving. Available from end of October to beginning of May.
Combining the popular 2 day Southern liveaboard cruise onboard MV Giamani with the 4 day cruise to the Northern dive sites immediately afterwards allows you to experience 22 dives at some of the best dives sites on offer in the Similan Islands National Park, the Surin Islands including Richelieu Rock, Koh Bon famous for the Manta Rays at West Ridge as well as the spectacular Koh Ha, Hin Muang & Hin Daeng and Phi Phi islands. Available from end of October to beginning of May.
With all 6 days diving spent at the Similan & Surin Islands you will get to experience 22 dives in all. Spend time with Manta's at Koh Bon, macro critters & whale sharks at Richelieu Rock, spectacular granite swim thru's at Elephant Head Rock and the awesome dive site that is East of Eden. Available from end of October to beginning of May.
9 DAY 9 NIGHT THAILAND & BURMA (MYANMAR) CRUISE
Of the 9 days 5 are spent in Burmese waters. Mergui Archipelago, Burma Banks, Black Rock and Western Rocky provide truly spectacular diving with the time spent in Thailand waters being split between sites in the Similans, Koh Bon and the Surin Islands (Richelieu Rock). Available from end of October to beginning of May.
8 DAY 8 NIGHT ANDAMAN ISLANDS CHARTER
Part of Indian territorial waters (though closer to Thailand), the Andaman Islands form one of the worlds most recently discovered liveaboard diving destinations. With fringing reefs, steeply sloping walls, coral pinnacles, plus the more unusual jet black volcanic walls of Barren Island, there is something for every diver on a liveaboard cruise to the Andaman Islands! Available on MV Giamani
BUILT YOUR OWN ITINERARY
Just let us know where you like to go, how many days you like to dive and we built your custom made Live Aboard adventure.