M/V Discovery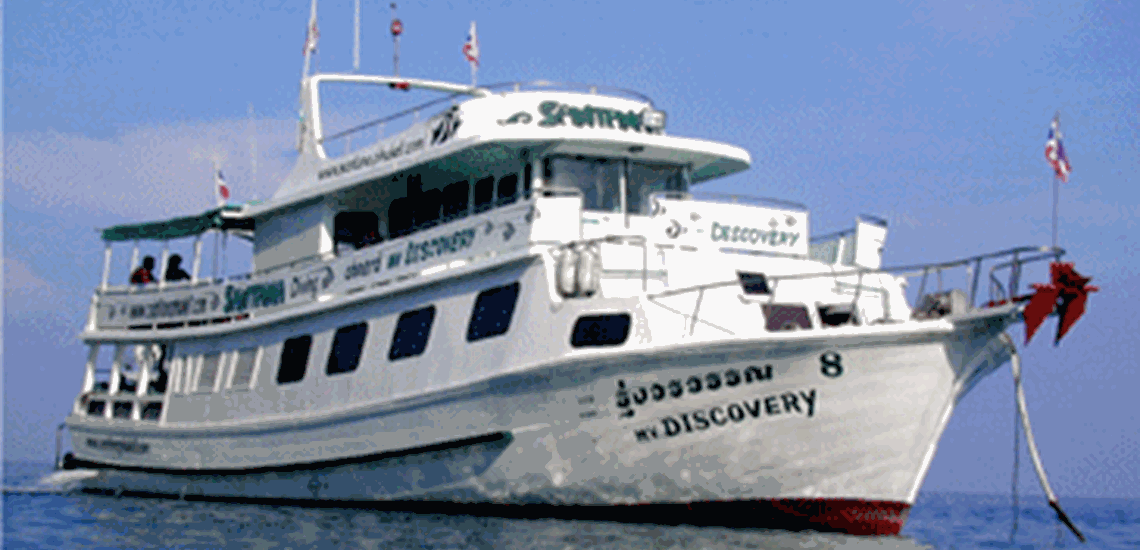 Dive, eat, sleep... That just about sums it up, and in-between fill in your logbook with the aid of MV Discovery's library of dive Thailand diving reef guides, read your book, or just lie back in Discovery's unique "chill-out zone" and gaze at another beautiful Andaman sunset aboard of Santana's scuba diving Thailand diving vacations liveaboard MV Discovery.
Whether you're a diving fanatic, or just a diver in need of a relaxing break, a MV Discovery liveaboard scuba diving cruise with Santana is the scuba diving vacation for you. Santana is run by Thailand diving enthusiasts.In fact we are completely nuts about diving in Thailand and Myanmar, so whereas other dive operators might be more interested in wearing the right colour t-shirt on the right day, or leaving the right flavour sweetie on your pillow, our idea of service is to give you the best and most exciting dive Thailand diving holidays we can. It is never MV Disccovery's fuel cost that dictates our dive Thailand diving itinerary, and there are no 45-minute restrictions either... Santana's MV Discovery dive times are limited to at least 60 minutes aboard a dive Thailand diving Phuket liveaboard dive vacation. And heavy breathers will be pleased to learn that we keep 8 x 15 liter tanks on the boat, as well as 12 liter tanks.
All those calories spent diving aboard MV Discovery's dive Thailand scuba diving vacation Phuket liveaboard need replacing somehow, and dining on board MV Discovery is excellent. Scotch pancakes are served first thing in the morning, breakfast is served after the first dive, lunch after the second, banana cake and fruit after the third, and dinner after the night dive. We serve a variety of western and Thai dishes to suit most tastes, and it just keeps coming! At each meal there is plenty of choice and plenty to eat. MV Discovery's chefs are happy to cater for vegetarians too to ensure the best scuba diving holidays you ever experienced. Chilled Chang beer, Bacardi Breezer, and a variety of soft drinks is available from the bar.
For your scuba diving Thailand diving holidays MV Discovery offers 3-day/4-night and 4-day/5-night liveaboard cruises to the Similan Islands, Koh Bon, Koh Tachai and Richelieu Rock. Alternatively Discovery operates scuba diving in Thailand diving and Burma safaris with 7-day/8-night diving holiday liveaboards to all those destinations plus the Burma Banks and the Mergui Archipelago (including Black Rock). We also offer 3-day/3-night MV Discovery liveaboards diving safaris to the "Southern Islands" of Hin Daeng, Hin Muang and Koh Ha.
MV Discovery is a classic Thai motor vessel built in 1996 and refitted in 2011 as a comfortable diving safari boat. She accommodates 16 passengers in her 8 twin-bed cabins. Each cabin contains air-conditioning, reading lights, pillows, bed sheets, blankets
| | | | |
| --- | --- | --- | --- |
| a | air-conditioned customer cabins, 2m x 2m | k | to the engine & compressors |
| b | staff cabins | l | cold drinks bar |
| c | 2 x heads, 1x extra restroom | m | captain's cabin |
| d | 2 x extra fresh-water showers | n | lounge, A/V equipment, satellite phone |
| e | forward sundeck | o | dining area |
| f | galley | p | shaded, cushioned "chill-out" zone |
| g | stairs to the upper deck | q | stairs to lower deck |
| h | camera and video shelf | r | ladder to top deck (not shown), over 20 sq.m |
| i  | diving platform, 2m x 6m | s | inflatable dinghy |
| j  | stairs to lower sundeck |   |   |