Racha Noi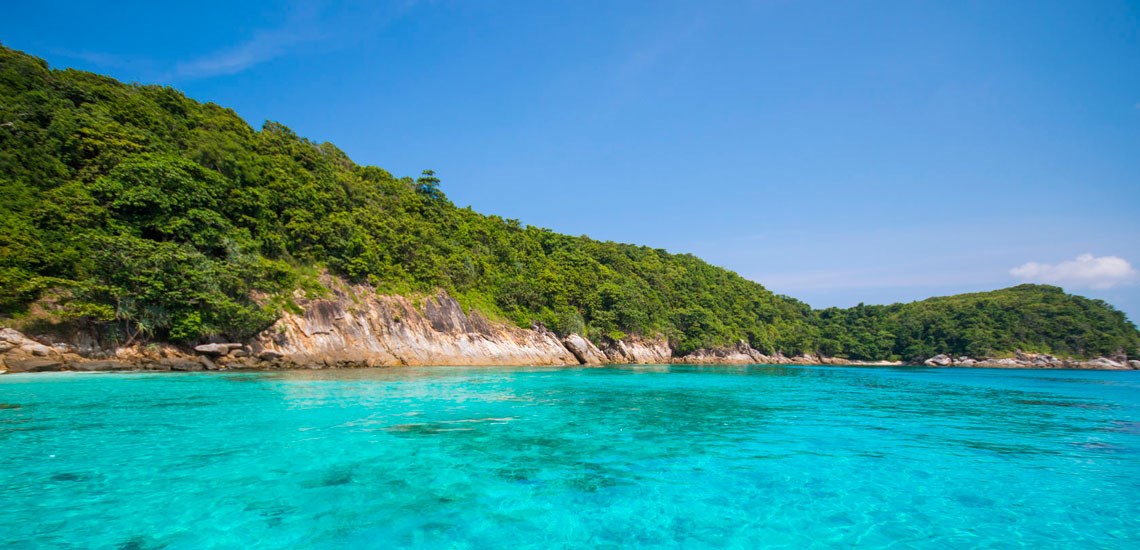 Racha Noi South Pinnacle
This is a great dive for experienced divers. The dive starts with a "live-boat" entry followed by a quick descent to 12 meters to find yourself on top of a large rock formation surrounded by deep water. This site is similar to those at the Similan Islands: huge granite boulders covered with soft coral and sponges. The fish here are bigger and schools of tuna, jacks and barracuda are common. This is one of the few daytrip destinations where frequently manta rays are seen.
Due to the unpredictable and strong currents, beginners should not attempt to dive at Racha Noi South pinnacle. This is a dive suitable only for advanced divers and above and visited only when conditions are favourable.
Racha Noi
The main dive here follows a rocky finger down to about 30 meters. The rocks are covered in soft corals and anemones. Barracudas, stingrays and sharks are often seen here, as well as the resident bullet head parrotfish. Good multi level diving here, with the shallower regions offering large colorful coral bommies surrounded by reef fish.
Marinelife: Chevron/pickhandle and great barracuda's, zebra (leopard) shark, whitetip reef shark, manta ray, Pinjalo snappers, bigeye snappers, bluefin and bigeye trevallies, fusiliers, hawksbill turtles, garden eels, blue spotted fantail rays, anemone fish, parrot fish, spindle cowries, wrasse, etc. 
The trip includes hotel transfers, lunch, fruits, coffee, tea, drinking water, Dive Master services, weight-belts, weights and tanks. Most boats also offer a light breakfast.
OUR DAYTRIPS ( RACHA NOI ISLAND )


Racha Noi Island
Distance:
32 Km.
Boat Trip :
110 min. Approx.
Depth :
10-40 m. (30-130 ft).
Visibility :
Good to excellent.
Currents :
Can be strong.
Surface Conditions :
Can be rough.
Experience Level :

South Pinnacle: Experienced divers only. 

North & East Coasts: Intermediate level